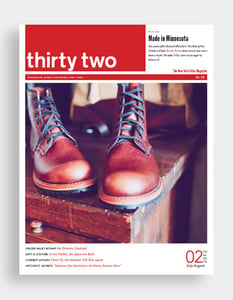 $

3.50 - On Sale
Dive into the world of North Dakota's swashbuckling fortune-hunters, be inspired by Minnesota's heritage menswear momentum, and read a critical account of today's cut-throat business culture by one of the most successful entrepreneurs in the Twin Cities.
Writer Frank Bures applies his signature soco-critical thinking to the flip side of Minnesota Nice, Maggie Ryan Sandford pens a manifesto about the Twin Cities' cultural renaissance and artist Andy Sturdevant gets a lesson in rural Minnesota.
Also features interviews, fiction, and the latest in design and entrepreneurship.